Salmon is a versatile, ultra heart-healthy super food and soon it will be time for the salmon run on the Columbia River. Here, a skinless roasted fillet creates a simple but elegant dinner when paired with red potatoes and sauteed mushrooms or fresh asparagus.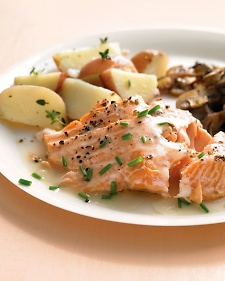 Roasted Salmon with AJ's White-Wine Sauce
Ingredients
1 large skinless salmon fillet (1 1/2 pounds)
Preheat oven to 450 degrees. Place salmon on a rimmed baking sheet; season with salt. Roast until opaque throughout, about 15 minutes.
4 Tablespoon Butter
2 Teaspoons all-purpose Flour
1/4 teaspoon Salt
2/3 Cup White Wine
4 Tablespoons Water
2 teaspoon Lemon Juice
2 teaspoon finely grated Lemon Zest
3 Tablespoons AJ's White Wine Mustard
In a small pan on medium heat, melt butter and add flour stirring constantly. Once well mixed, stir in remaining ingredients, continue stirring constantly. Bring to a soft boil for 2 minutes or until slightly thickened, it will continue to thicken as it cools.
Serve warm over roasted salmon or try over your favorite salmon cakes.
Prep: 5 mins
Total time: 20 mins
Servings: 4