Not sure what to do with all of those leftover decorated eggs left by the Easter Bunny?
Make deviled eggs!
There are dozens of variations when it comes to deviled eggs, but by adding a little of AJ's Walla Walla Sweet Onion Mustard you'll have everyone asking for your recipe!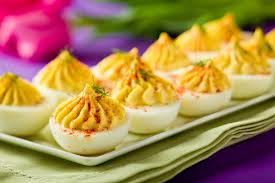 AJ's Deviled Eggs
12 eggs
4 tablespoons mayonnaise
2 teaspoons AJ's Walla Walla Sweet Onion Mustard, (we prefer our Chipot1e but any of our flavors make them irresistible)
Paprika, for dusting
Directions
Remove shells from hard boiled eggs and slice in half lengthwise.
Separate egg yolks into a bowl and whites onto a separate plate.
Mix mayo and mustard into yolks and mash together with a fork until creamy and smooth.
Using a large star tip and re-sealable plastic bag, pipe the yolk mixture back into each egg or spoon into each yolk with a teaspoon, enough to fill yolk holes completely.
Dust tops with paprika.
Refrigerate enough to chill, serve and enjoy!