Nick Taruscio Farms, Walla Walla, Wa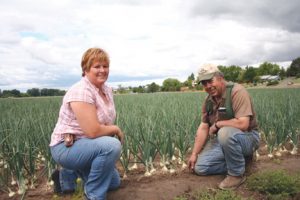 We buy all of our Walla Walla Sweet Onions from Nick Taruscio Farms.  Joe is a 3rd generation Walla Walla Sweet Onion grower, with the first member of the family growing onions being Joe's grandfather Leonard Taruscio.  Leonard emigrated to Washington State from Italy in the 1920's and purchased 10 acres of land near Walla Walla and began farming.  Nick Taruscio Farms generally cultivates between 10 and 20 acres of Walla Walla Sweet Onions yearly.  AJ's has been buying onions directly from the grower for roughly 20 years.
Nick Taruscio Farms
2668 Old Milton Hwy
Walla Walla, WA 99362
509-529-7667
History of the Walla Walla Sweet Onion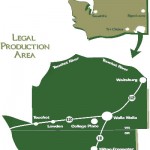 The story of the Walla Walla Sweet Onion began over a century ago on the island of Corsica off the coast of Italy.  French soldier Peter Pieri found a sweet onion seed on the island and brought it to Walla Walla in the late 1800's.  Several of Pieri's neighbors impressed by the onion's winter hardiness, harvested the seed and began to cultivate the onion. Each year the growers set aside the roundest, biggest, and sweetest onions and use them to plant the following year's crop. Today approximately 60 growers cultivate the Walla Walla Sweet Onion on about 1,200 acres in the Walla Walla Valley.
Walla Walla Sweet Onion Mustard
Each year in July, we make a trip to Walla Walla to pick up our year's supply of onions. We bring them back to our facility in Pasco, Wa, and peel, chop, and grind them into the final product that is found in all of our sweet onion mustard.  Our hands on approach ensures that every jar contains only Genuine Walla Walla Sweet Onions.
Find out more about where we source our ingredients and why.
Why Walla Walla Sweet Onions?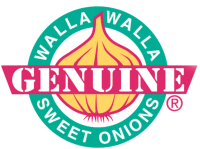 In compliance with Federal Marketing Order No. 956, each jar of our AJ's Walla Walla Sweet Onion Mustard carries the genuine Walla Walla Sweet Onion logo.
Why do we use Walla Walla Sweet Onions in our mustard?    Our mustard base is a creamy dijon style and blends well with the sweet onion flavor.  Walla Walla Sweet Onions provide our mustard with a sweet, complex onion flavor that doesn't overwhelm the palate with the heat you might get from traditional onions.
In 2007, the Washington state senate declared the Walla Walla Sweet Onion the official vegetable of Washington State.  With only 1,200 acres of onions planted each season, the Walla Walla Sweet Onion is a small crop in high demand.