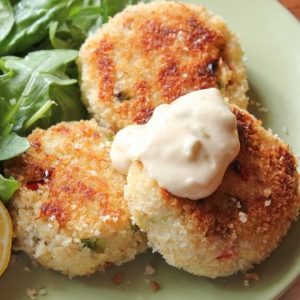 We recently visited the Oregon Coast and enjoyed a smorgasbord of fresh seafood. One of our favorites was the crab and decided we wanted to share with you our recipe for crab cakes.
These crab cakes are all about the crab. A little bit of AJ's Walla Walla Sweet Onion Mustard with Red Bell Peppers, panko, and an egg keep it all together with the chopped red bell peppers and chives adding some fresh flavor and texture.
Crab Cakes
serves 4 (makes 10 crab cakes)
For the crab cakes
1 pound crab meat
1 tablespoon chopped chives
2 tablespoons finely chopped red bell pepper
1 egg, lightly beaten
1/2 cup panko crumbs, plus additional for dredging
1 tablespoon lemon juice
1/4 cup AJ's Walla Walla Sweet Onion Mustard with Red Bell Peppers
1/2 teaspoon salt
Lemon wedges, for garnish
For the crab cakes, combine the crab meat and chives in a large bowl. Add all of the remaining ingredients and mix gently until well-combined. Using a 1/4 cup measuring cup, scoop out crab mixture and form into a patty with your hands. Dredge the cakes in additional panko crumbs until completely covered. Arrange the cakes on a sheet pan and chill until ready to cook.
Heat a few glugs of canola or safflower oil in a large aluminum or cast iron skillet over medium-high to high heat. Cook crab cakes (in two batches if necessary, adding more oil as needed) until crispy and light golden brown, approximately 2-3 minutes per side. Keep the crab cakes hot in a warm oven, if desired.
Serve with a dollop of AJ's Walla Walla Sweet Onion Red Bell Pepper Mustard, a couple of lemon wedges, a lightly dressed arugula salad and you have a meal easy enough for a weeknight but special enough for entertaining.